Tour Journal Classic Peru Bolivia Chile 10/12 - 10/26/2011
Yes, I'm part of the group or friends/family with one of the travellers, so I can access to all photos with the following password.
Our tour

Classic Peru Bolivia Chile

|

Eastern Highlights

Guide Manuela

Your Contact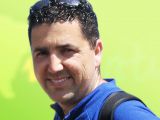 Blake Lieberman
1-888-238-1602
 

Privacy
Privacy is very important to us. Therefore, our customers can:
Upload photos
Delete photos
Restrict photos Only your tour group can see the pictures
News
10/7/14 from Pep Sarro
El Superclásico – The Biggest Rivalry in Argentine Football
As I watched 11 red and white shirts wage war against 11 blue and yellow shirts in unplayable conditions in front of 74,000 screaming fans late into Sunday night I knew, I had to write my first article about football. Actually let me rephrase that, because describing this rivalry as just football would be an understatement of […]
More News in Blog
Social Engagement
viSocial Aid for children, families and seniors in South America. Support us with your donation, sponsorship or with your active contribution.
Go to viSocial Foundation