Extra Services South America = Viventura = Knowledge
Viventura is not only a tour operator, but also a network of people who love South America and who know the continent like the back of their hand. The employees of the Viventura network, live and work throughout nine different South American countries.
Viventura Additional Services
News: Newsletter
Every month we provide interesting stories from Viventura in addition to well-researched reports from various countries in South America. These reports will definitely inspire you. Subscribe to our Free, Monthly Newsletter.
Graphical Material: At Your Service
Do you need a great image for print coverage or the Viventura logo as a vector file? We'd love to assist you!
Discounts: Journalists/Bloggers in the Travel Industry
To clarify our offers, we grant discounts! These are given on a case by case basis - we like being persuaded. Please understand that we can only grant discounts for journalists who work in the travel industry.
Contact:
For questions, comments, or suggestions please contact us via Contact Form.
Your Contact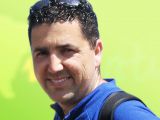 Blake Lieberman
Toll Free USA 1-888-238-1602 Worldwide 1-813-579-3389
 

News
1/14/14 from Bianca Bauza
Chachapoyas, Warriors of the Clouds
The history of the Chachapoya culture seems to have been influenced by their environment and its c
lima
te. They used to inhabit the cloud forests of the Amazon region in northern Peru. The center of this legendary culture was the basin of the Utcubamba river. Due to the geographic characteristics of the area, this region remained […]
More News in Blog