Looking for a Job Opportunity? Below you can find open positions at our worldwide offices. If you don't find a suitable position for you, send your CV and a Cover Letter to
[email protected]
- Let us know why are you so valuable for the company!
Viventura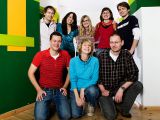 What Does Our Name Mean?
Viventura is a derivative of 4 ideas:
vive (to live)
aventura (adventure)
event (event)
tour (tour)
Meet the Team
Viventura is a team of professionals with one thing in common: a passion for South America. Get to know the team, from the person that answers the phone, to our colleagues researching, to the owners, we look forward to meeting you.
To Team